Germany collects the 100st medal at European U23 Championships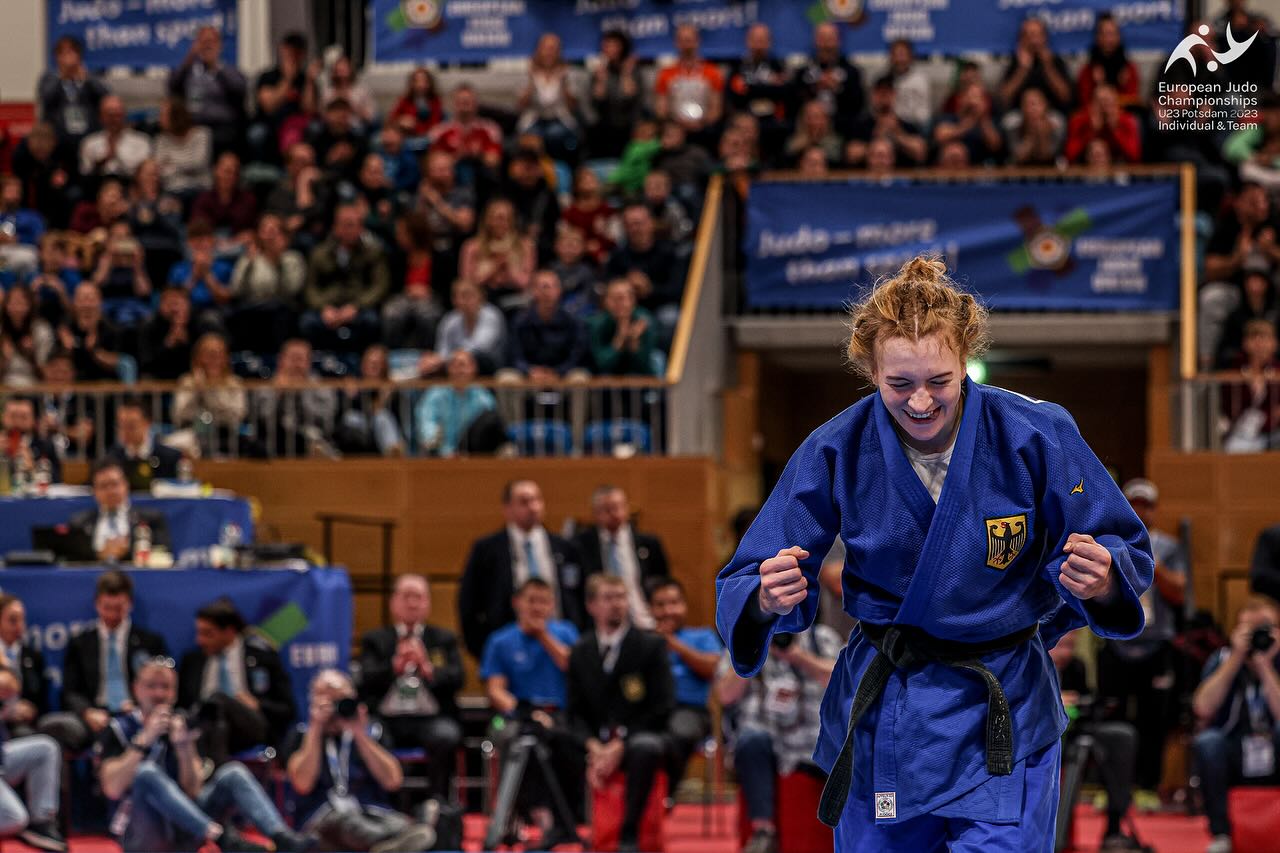 18 Nov 2023 20:00
European Judo Union / EJU / Copyright: www.eju.net
Today's gold medal for Samira Bock U70kg and her title prolongation was the 29th title for the Germans who collected four medals this event, making exactly 100 medals since the start of this championships. The first medal was won in 2004.
With today's medals: 1x gold (Samira Bock/-70), 1x silver (Raffaela Igl/-78) and 2 bronze medals (Friederike Stolze/-70, Kilian Kappelmeier/-100), Germany was hoping for these four as it the host nation was still without a countable haul on the opening day and now catapulted themselves to 5th place among 37 nations in the medals table. The packed MSB Arena (3,000 fans) went crazy. The anniversary medal was won by 3rd placed Kilian Kappelmeier (U100kg).
"This means we have already achieved all our sporting goals before the final mixed team competition on Sunday. But we're secretly hoping that Team Germany will also win a medal on Sunday, ideally gold," hopes CEO Frank Dötsch. "Last year, we were beaten in the final 4-1 by Turkey. The title should also be within our grasp in front of our own fans."
"To be honest, I've never fought in front of so many people before, 3,000 spectators and such a cool atmosphere is new territory for me. It was a perfect day, I really enjoyed the atmosphere – especially in front of my family (mum Soraya, dad Stephan and sister Yasmin)," beamed U70kg European champion Samira Bock, who successfully defended her title from Sarajevo 2022 in Potsdam. With a wink, the 20-year-old from Munich said: "But it's not over yet: I definitely wouldn't mind a third gold medal – with the mixed team."
Germany takes the second place on the all time ranking behind Russia (168), Hungary is third with 86 medals. The Hungarians are second on the list of most titles behind Russia, Germany is third followed by the Dutch team that captured three European U23 titles this weekend and collected six medals in total and was the most efficient team of the championships. On Sunday the Dutch will try to win the team title for the first time. Georgia finished second in the medal tally.
Samira Bock is together with Kristin Buessow and Sappho Coban the third German to win two titles and the most successful of 81 German medalwinners. Top four most successful ever athletes in Europe are all from Hungary.