Jessica Klimkait wins the Canadian battle with Christa Deguchi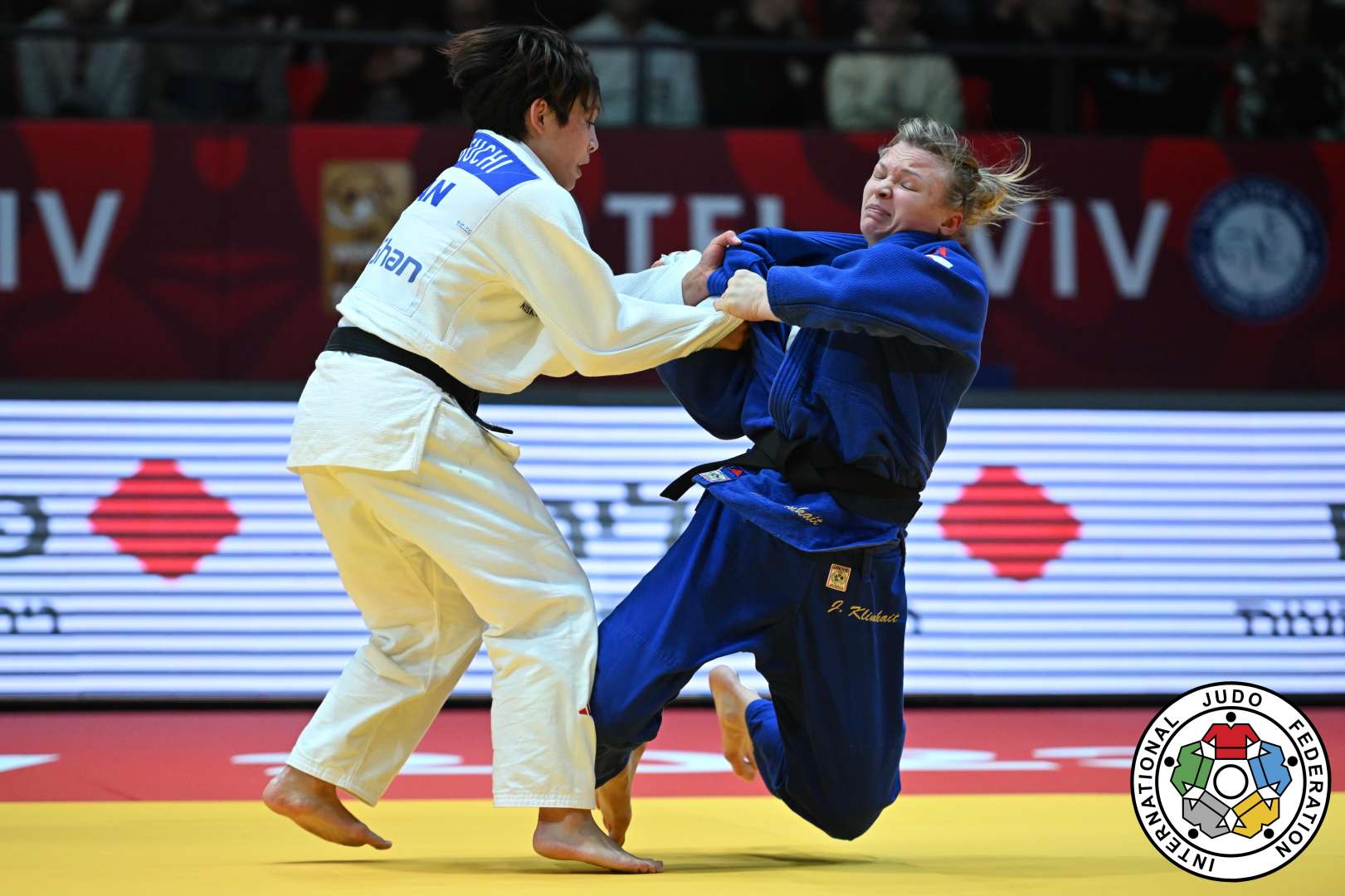 17 Feb 2023 00:30
IJF Media team by Nicolas Messner and Judo Canada
Tamara Kulumbegashvili - IJF
The Tel Aviv Grand Slam saw its dream final where the two top rivals for Canada came out. Christa Deguchi and Jessica Klimkait battled it out for another epic fight. Deguchi could reasonably be offered a small advantage as she proved to be imperial in each of her preliminary matches, while Klimkait suffered but held on.
It is certain that those two have known each other for a long time and that their peaceful but competitive rivalry has been feeding comments for many years. The rivalry was in favour of Klimkait. Despite looking more precise and sharp, Deguchi couldn't score, which Klimkait did after a last seoi-nage attack. The opposition between the two is far from being over.
The two athletes were neck and neck for most of the fight. They received two penalties each during regulation time, but things really heated up in overtime. In the end, Klimkait scored an ippon to clinch the gold medal.
"Jessica and Christa know each other inside out, so we knew the match would be extremely close. We knew that these two, who are both so committed and so determined, would put on quite a show. It made our job a lot easier," noted coach Antoine Valois-Fortier, acknowledging that he played a much smaller role in the final.
The path to the top of the podium was a bumpy one for the Tokyo Olympic Games bronze medallist. After winning her two first bouts expeditiously, Klimkait had to battle through two marathon matches in the quarter- and semi-finals.
"Jessica had to get through some very, very long fights to advance to the final. Once she got there, though, I had the impression it was like a new day. Both athletes had a long break before the final, so I was looking forward to seeing how things would play out on the tatamis," added Valois-Fortier.
Deguchi was also brilliant during the tournament, as she worked toward her eighth career Grand Slam medal. Valois-Fortier expressed great satisfaction with her strength of character.
"Christa had a fantastic day. She had convincing victories in all her fights, and she was very consistent. That's what puts her at the elite level in this sport."
Deguchi defeated Shannon Van De Meeberg of the Netherlands, Jessica Pereira of Brazil, Pauline Starke of Germany and Daria Bilodid of Ukraine before bowing out to Klimkait in the final.
Klimkait: "It's known that Christa and I are in quite a rivalry leading up to Tokyo 2021 and I had never beaten her before and when I stepped into the finals it wasn't only about winning but about redeeming myself in the hard tines that I had in the first race to Tokyo. In the end it was just overwhelming in Tel Aviv. It was not just about the tournament but about the last six contests. I felt like I walk into this match with nothing to lose, all the emotions like heartbreak of losing, so entering this match was to give everything I have and go to the very end and that was the feeling. Compared to a few years ago I am a different athlete. I have matured mentally but also tactically and I trust my judo a bit more and my mindset on the mat. Judo is about evolving technically and also mentally. It's nice to have this today and the work continues to work and we will be in many more finals and it's going to continue to be a rivalry for Canada."
After having mentioned all the contenders, we should not forget the reigning world champion, Rafaela Silva (BRA), who could still be on the podium after her confrontation with Timna Nelson-Levy. Their long match remained uncertain, as neither Nelson-Levy nor Silva seemed to be able to score. Thus, only penalties were written on the scoreboard. In golden score, after minutes of battle, the third shido went to Silva for a false attack, propelling a wave of hurrahs among the public. It was bronze for Nelson-Levy.
Daria Bilodid is winning her bet. Although she still lacks a bit of physicality and precision against opponents like Deguchi who left her no chance in the semi-finals, she is more and more consistent in her new category. Let's not forget that at the Tokyo 2020 Games, Bilodid was still competing at -48kg, two categories down. For a place on the podium like in Paris two weeks ago, she still had to throw a little energy into her match against Mina Libeer (BEL) but Bilodid was eventually unable to compete and so the bronze medal went to Mina Libeer.
There was such a density of competitors at the start of the day that it was difficult to predict who would still be present at the end of the day. Between Christa Deguchi (CAN), Jessica Klimkait (CAN), Tsukasa Yoshida (JPN), Daria Bilodid (UKR), Telma Monteiro (POR) and Nekoda Smythe-Davis (GBR), without forgetting the local Timna Nelson-Levy (ISR), there were some outstanding competitors, to say the least.